The UK broking industry sees remote working as both a challenge and an opportunity. In this article, we examine what brokers have to say on the topic and what this means for the future of broking.
Flexible, or hybrid, working is popular and its here to stay. In a recent survey by Deloitte, UK CFOs say they expect 27% of the total UK workforce to be working fully remotely by 2025 a five-fold increase over pre-pandemic levels.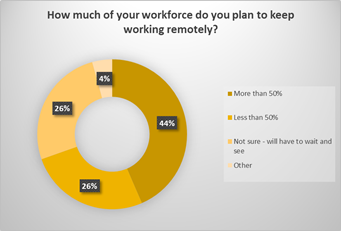 Whats true of the wider economy is true for brokers too. In a recent survey of UK brokers by Novidea, 70% of respondents said that some of their staff would continue to work remotely in the future.
One of the reasons for this is that remote working has proved popular with broking staff, all the way from junior employees up to senior managers. When asked about the biggest benefit they expected to see from remote working, the majority (45%) said: better work-life balance.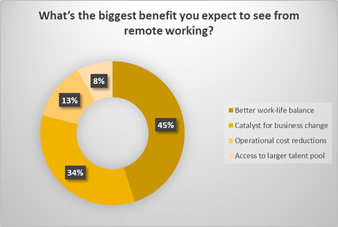 According to some brokers, junior employees and senior managers alike are enjoying not having to commute. It means having extra hours to get more work done, as well as more family time. Several brokers also commented that staff adapted to lockdown quickly with minimal disruption.
However, in speaking to both customers and other brokers in the wider community, its clear that brokers face similar challenges in adapting to remote working for the longer term. Once over the initial challenges of resistance to change and remote working hardware requirements, whats left to tackle?
Challenge #1: Lack of Management Information to base decisions on
Opportunity:

Increased competitive advantage
Most brokers say they lack access to Management Information (MI) while working remotely; they dont have a full view of their business.
As one says: We have all this data, but its not all in one place, due to our mix of front- and back-office systems. So, we cant even access it easily, never mind analyse it!
For example, most said they were unable to see at a glance what commissions they were generating from customers, or which customers were most profitable. Others added that they werent able to match customer needs to underwriting capacity as quickly as they would like.
This is many brokers are increasingly working on creating MI solutions where they can access all their data in one place in dashboards and reports, giving them a full 360-degree view of the business and highlight where they can improve operations and increase revenues.
For Alan Wallace of PNP, this is about becoming more competitive:
We decided we needed that edge because wed be competing against these huge behemoths and we needed to be quicker, more agile. With this kind of data, were going to go in and do a better job by focusing on the information the customer needs to know.
Challenge #2: Communicating effectively with employees
Opportunity:

Improving systems and processes can improve morale and productivity
In our recent survey of insurance brokers, well over half of respondents cited less effective communication as their biggest remote working challenge.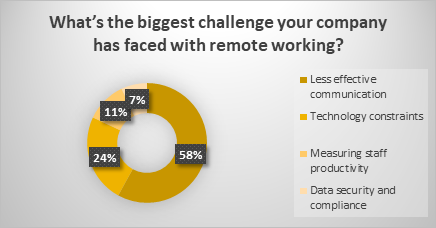 Deploying the right technology can help brokers to improve communication for remote workers, according to several brokers.
One mentions that they are looking at automating workflows, saying:
When you automate the workflow, with prompts for staff on what steps they need to take next, this takes out a lot of the communication around the basics. It frees up time for your staff to get on with the job without the need for back-to-back video calls all day, and without feeling like they need constant supervision and that helps them to feel more productive.
Another broker talked about the communication benefits of dashboards showing MI, saying: When we can give our staff access to the relevant data they need to do their jobs in an easy-to-read format, they will feel empowered. They can make decisions or be able to spot issues and get in touch with senior staff to resolve them. This makes communication more of a two-way process, and less top-down. I think that will help to boost productivity in the long run.
Challenge #3: System performance and scalability
Opportunity:

Working in the cloud improves performance and scalability
Many brokers report performance issues with the systems they currently use during remote working. Some have had to spend more on licenses for their end-users, since they now require access from multiple locations. Others report issues with lack of capacity, bandwidth limitations or network performance issues.
Having multiple front- and back-office systems usually a mix of new and legacy also makes these issues more difficult to manage.
Several brokers we spoke to are responding to this challenge by migrating more systems and applications to the cloud. This gives them the ability to increase workloads within a new IT infrastructure.
Keith Bucknall from SRG says that having migrated most of the companys systems onto the cloud prior to 2020 put the group in a great position when they were forced to work remotely.
I'll always remember in March 2020, when we had to go to remote working overnight, it went off with no issues. I think we would have struggled to do that if we hadnt migrated to the cloud beforehand.
Some brokers were less quick to act, but now realise that cloud-based systems offer secure, real-time access to data from anywhere, and the ability to scale workloads according to demand.
Challenge #4: Inability to find workflow bottlenecks
Opportunity:

Increased MI can uncover and pinpoint bottlenecks faster
Several brokers we spoke to admitted that they were unable to spot or resolve workflow bottlenecks while working remotely.
We could have a major issue with productivity, but at present I dont have enough oversight to know where those bottlenecks or obstacles might be, one says.
Alan Wallace, CEO of PNP describes the benefits of enhanced MI when he says:
The data is how we steer the ship. I want to see how we're performing, and a good MI system gives you that data.
Other brokers add that theyre also looking to use MI to reveal productivity issues and bottlenecks, flagging them for managers to resolve.
At the same time, others repeated the benefit of automating workflows, which will allow them to prompt the right actions at the right time across the business, making bottlenecks both less likely and also easier to spot. The result is increased efficiency and productivity, as well as higher operating margins in the longer term.
Challenge #5: Outdated legacy technology
Opportunity:

Moving to cloud-based systems and applications can increase flexibility and reduce operating costs
In our survey, 24% of respondents cited technology constraints as their number one challenge with remote working. In speaking to brokers, however, it's clear that legacy technology is an issue for almost all of them.
Even those with more advanced digital transformation programmes cite this as a challenge: We're still slightly struggling with legacy, says one. It still takes us a lot of time to produce MI reports because we have to use spreadsheets to manually produce MI from our legacy systems.
Others agree; multiple back- and front-office systems lead to multiple issues, including:
Siloed data that takes manual effort to process
Inefficiencies and human error due to the need to rekey data
Data security issues
Inability to access all systems remotely
The key to overcoming these challenges is to migrate onto cloud-based systems that offer secure, remote access. Otherwise, the costs become overwhelming:
If you dont start to migrate now, youll get to the point where if you have five back-office systems and three claims systems and five finance systems. Youre never going to integrate them. The cost and time involved in doing so makes it too challenging. Then, as the business grows, you need to employ more people just to maintain your old systems. This leads to increased overheads,
Many brokers are in the process of combining multiple disparate back- and front-office systems into one streamlined, end-to-end system with an open API structure so they can integrate it with other systems.
Keith Bucknall of SRG puts the case for this approach: Ive got a vision that in two years time we wont need Citrix. We wont need all this big infrastructure. We wont need all these virtual desktops. All our applications will be cloud or SaaS hosted and well give everyone laptops. Well make sure theyre secure and thats all theyre going to need. So actually, our brokers could be working from anywhere.