In this monthly post, we introduce you to one of the many talented individuals who make Novidea such an innovative company and a great place to work.
Wed like you to meet Alex Harari from our Delivery team in the UK, where Alex was born and raised. Hes big into animal welfare and as youll see below, you can't catch him unprepared when the rain comes down.
Meet Alex Harari, Delivery Manager, UK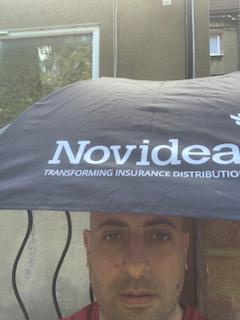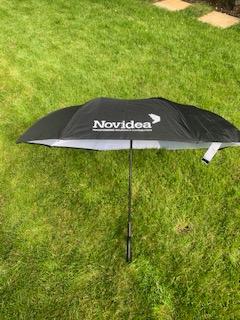 1.What is your favourite Novidea memory/event/swag?
I went to Israel for training (which was great of course) but I was asked to bring back to the UK a batch of umbrellas as client gifts at corporate events. I did wonder why it was decided to make the umbrellas in Israel (not known for its rain) and then have them sent to the UK (experts in precipitation). The umbrella is actually brilliantly designed.
2.
What are the top 5 tools you cant live without?
People Everyday I learn something new be it from clients, the Novidea family, business partners and those in my network.
3.
Whats the best place youve ever traveled to?
New York My wife and I got married in Central Park.
4. Whats your biggest guilty pleasure, and why?
Desserts. I grew up with my grandparents and my grandmother always had a choice of desserts to choose from Apple Pie and Custard, Chocolate Cake, and Cheese Cake.
5.
Whats your hidden talent?
I am in the top 99th percentile for Emotional Intelligence after doing a 4-hour test as part of an interview process. Although sometimes I wonder if the tests got mixed up!
6.
Choose a movie title for the story of your life
Mission Possible: The Generalist
7.
How do you manage work/life balance?
This is simple. The Business Analysts, implementation team, testers and clients run my work life, and my wife and children manage my personal life.
8. Whats the coolest thing about your job?
Everybody in Novidea is super friendly and helpful. There is absolutely no politics. Ideas are encouraged. It is just a great place to work.
We hope you enjoyed learning a little bit more about the people who drive the smart behind Novidea! Stay tuned for our next feature.