In this months feature introducing you to the bright and talented team here at Novidea, we have Paul Wadsworth!
Paul recently joined the Novidea team as our UK & International Programme Manager. This means hes responsible for managing most of our projects based out the UK.
He could also probably help you out with any of your DIY needs, being a woodwork buff with an electric screwdriver too – what can we say, hes a very handy guy.
Meet Paul Wadsworth, UK & International Programme Manager.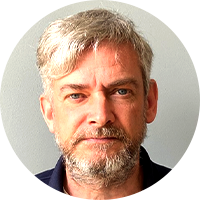 Heres a little more about Paul-
What

has been your favorite part of working remotely during the pandemic?


It's definitely got to be the absence of the dreaded commute.

What's the coolest thing about your job?




It's really cool being able to shape and contribute to the success of the company going forwards.

What would be your dream job, apart from working for Novidea?




That's easy, Id be a professional rugby player.

What are your hobbies?




I love woodworking, gardening and walking. Outdoors and working with my hands, say no more.

What's the best place youve ever travelled to?




The Iguazu Falls South America – they are the waterfalls of the Iguazu River, theres more than 275 waterfalls that together, make up the largest waterfall in the world!

What's your favourite book or movie?




Its got to be Pulp fiction. Cant argue with a Tarantino classic.

What's one thing few people would know about you?




Nothing comes to mind Im a very open person! Ask away.
We hope you enjoyed learning a little bit more about the people who drive the smart behind Novidea! Stay tuned for our next feature.