This month, as we continue to present the brains and talent behind Novidea, we are introducing you to Tom McFarland- who recently joined the Novidea team as a UK Product Owner.
Tom is responsible for delivering system functionality which caters for the unique demands of London market business processes. Sports lover and travel enthusiast, Tom has been using his spare time over lockdown to teach himself to DJ- just to add to his list of talents, one of which being juggling! We cant wait to see what else Tom has up his sleeve.
Meet Tom McFarland, UK Product Owner.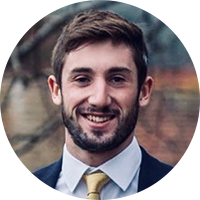 1. What has been your favourite part of working remotely during the pandemic?
Avoidance of the busy commute on Londons infamous Northern Line!
2. Whats the coolest thing about your job?
Collaboration with colleagues in a cross functional team across multiple locations with divergent skillsets. At Novidea we are building a new team with highly skilled colleagues that bring various experiences, so its an exciting place to be.
3. What would be your dream job, apart from working for Novidea? 
Travel journalist the opportunity to travel the world and document experiences!
4. What are your hobbies?
I play rugby for Southwark Lancers. Skiing and surfing when the opportunity arises! Not much luck during the pandemic During lockdown I have started to learn how to DJ.
5. Whats the best place youve ever travelled to?
Whiskey Point, Aragumbay, Sri Lanka beautiful sandy beach, perfect breaking waves, the sight of wild elephants if you are lucky and a cocktail bar on the beach!
6. What are the top five gadgets you cant live without?
Pioneer DDJ200 DJ controller.

Bluetooth headphones music on the move!

Nespresso Coffee machine.

Chromecast watch what you want, where you want.

Zoom/Facetime keeping contact with far afield family and friends!
7. What is one thing few people would know about you?
I can juggle.
We hope you enjoyed learning a little bit more about the people who drive the smart behind Novidea! Stay tuned for our next feature.